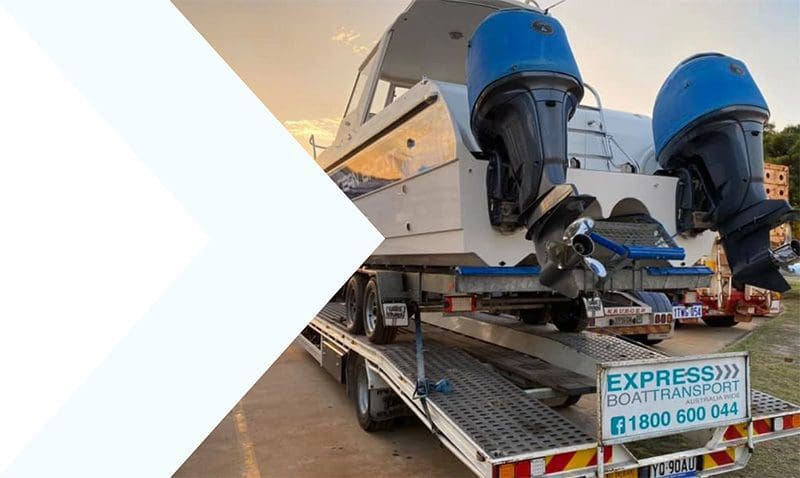 Reliably moving trailer boats up to 16m in length. Your journey made smooth and secure.
TRAILER BOAT TRANSPORT Expertise and Reliability across australia
When it comes to transporting your trailer boat, Express Boat Transport stands as the trusted choice for taking care and the transportation of your trailers of all sizes and types, ensuring a seamless and secure transport experience.
Deal direct with the owner and avoid the middle man, Express Boat Transport stands as the trusted choice for manufacturers, dealers, and boat enthusiasts alike. With a legacy of over 28 years in the industry, and depot locations Australia wide, you can rest assured that your boat is in the most capable hands. As the preferred transporter for many of Australia's best trailer boat manufacturers such as Sailfish Catamarans, Powercat, Evolution and Arvor, we have a reputation you can count on.
Why Choose Express Boat Transport?
Depot to depot or door to door? With 28 years of experience moving trailer boats from one corner of the country to the other, we have learnt a thing or two that puts us oceans ahead of the competition. Aerials, covers, cushions and electronics are items that need to be assessed differently for each make and model, a 28ft catamaran will have different challenges in transporting as opposed to a 14ft open dinghy – let us do the hard work for you and rest easy knowing your boat is our livelihood.
The process for transport will differ from boat to boat, some factors we will take into consideration can be:
Lifting requirements - marina travel and crane lifts
Facilitating the handover between seller and buyer
Correctly preparing your boat for transport
Permits and escort requirements for each state and local council
Securing your boat to our trailer and supporting it where required
Delivering at a time that suits you to receive your new boat
Storage of your boat if required at one of our many depot locations.
Experience that Delivers Peace of Mind
Our extensive experience means we know how to safeguard your trailer during transport. We're committed to delivering your trailer in the same impeccable condition as it was collected. From the moment your trailer or is loaded onto our truck, our skilled team takes meticulous care to prevent any contact with the hull, fins, or protruding features.
With almost 30 years experience relocating trailer boats up to 16m in length, big boats and luxury vessels up to 60ft Australia wide, quickly calculate the costs and plan for your boat move with one phone call. Buying a boat interstate can be daunting, we deal direct between buyer and seller regarding registration, transfer, collection, drop off and even escrow, ask us how we can help you. Our point of difference is the fact that you deal with 1 person from start to finish, get updates when you want, and photos along the journey. This is what sets us apart from others in the industry, simply read our reviews online to see how our clients rate us.
Seamless Australia-Wide Coverage
Express Boat Transport boasts depots strategically located in the heart of every capital city, as well as smaller depot locations in neighbouring towns and rural areas. Our extensive network ensures that no location is beyond our reach. When it comes to loading and unloading, safety is paramount. Our utilization of large forklifts, gantry cranes and travel lifts allows us to lift your boat and trailer as a single unit, with special precautions taken to avoid contact with the hull or any sensitive features.
We can offer depot to depot transport, or door to door where required, see below for a brief list of some of our depot locations:
Airlie Beach – Cannonvale
Sunshine coast – Mooloolaba
Airlie Beach – Cannonvale
Sunshine coast – Mooloolaba
Choose Excellence in Trailer Boat transport
​Your boat is our livelihood, read our reviews or view our 3000+ photos on Facebook to see how we stack up against other boat transport companies that offer a similar service. Moving your boat with comprehensive marine cargo insurance and without damage is our top priority and a reputation we rely on, this is what sets apart from other boat transport services.